Our bodies change during pregnancy and it can have some effect on our feet. It is important to keep our feet happy during pregnancy to avoid any pain or discomfort.
Some things to keep in mind;
Avoid standing for long periods
Raise your legs when sitting and at the end of the day
Stretch
Stay hydrated
Wear good, supportive footwear
Avoid thongs, high heels and unsupportive footwear
Apply cream to your feet daily
If you cannot cut your toenails during your pregnancy – get them professionally done by one of our skilled podiatrists
Massage your feet to help reduce discomfort or come in for our 'Relief for Pregnant Feet' treatment and our podiatrists will take care of you.
If you are wishing for some advice on your feet during your pregnancy, wanting to get the 'Relief for Pregnant Feet' treatment or to get your nails professionally trimmed, don't hesitate to book in to see one of our podiatrists.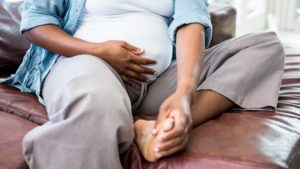 Image Reference:
http://images.agoramedia.com/wte3.0/gcms/edema-722×406.jpg