You may be wondering whether the knee is an area that a podiatrist would see? Not specifically, would be the most appropriate answer. Pain at the knee can be caused by many factors – either independently, where it is localised or dependently on other structures such as the foot or hips, as they function together. The structure of the foot can cause trauma or pain to occur at the area of the knee, due the varied pressures or forces acting at the knee region from the foot. This can be simply explained by the diagram below: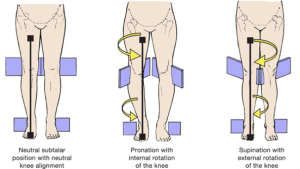 The forces acting on the foot is dependent on the structure of the foot.
The 'normal' foot structure allows for even amounts of tension at the tissues and ligaments at the foot and the knees.
The pronated or 'flat' foot structure allows for an increase in tissue loading at the foot as the foot is 'splayed out' more. This in turn could overload the tissues at the leg thus affecting the knee.
The supinated or 'high arched' foot, as it may not be able to pronate appropriately may not have adequate shock absorption, thus causing overloading at the tissues across the foot and leg, thus affecting the knee.
Treatment methods
Treatment or management methods would vary depending on the cause, severity and duration of the ailment. Further assessments may need to be made by your friendly podiatrist for an appropriate treatment plan to be made. This may include referring for imaging, orthotics or other allied health professional for combined therapy. This is in order to provide a holistic, effective and efficient treatment plan to our patients.